Best Waist Trainer Before and After Reviews
 You'll know if a shapewear or waist trainer is effective through the before and after results. There's nothing words can tell more than real photos of genuine customers.
When it comes to body-shaping, the most important to consider is how the shapewear or waist trainer works for both the short-term and long-term.
The short-term results should be visible right after you wear the body shaper, while the long-terms results should be visible after consistent use. To know which body shapers can help you achieve the results you want, check these products out:
1. Plus-size Waist Cincher with Tight Closure
FeelinGirls` Plus-size waist cincher allows you to wear it under or over your workout clothes, just like the one in the photo. You can see that she has a visibly cinched waist and hourglass figure even while sitting!
It has a steel plate fixation to ensure that you'll be able to achieve the waist size you're aiming for. Even though it has strong support, you can feel at ease that it won't irritate you or your skin because of its breathable and skin-friendly materials.
You can check out the photos of genuine customers` waist trainer before and after photos wearing different waist trainers on our website.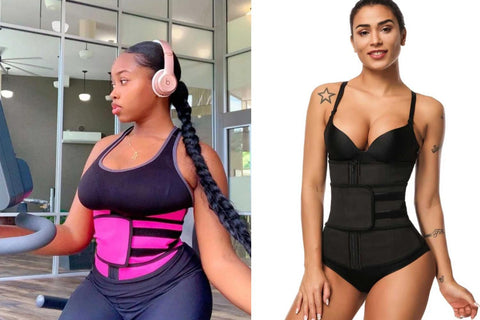 2. Colorful Camouflage Waist Cincher with Fitness Belt
What better way to celebrate the start of your waist training journey than getting a fun camouflage waist cincher that`s easy to clean through the stretchy fabric, effective with consistent usage, and excellent for back support?
For less than $65, you can get this waist cincher with steel bones from FeelinGirl for both temporary and permanent waist size reduction and weight loss.
Our customers who have experienced the fantastic features of this waist cincher have said that it has helped them sweat more, support their back, and holds the tummy rolls well.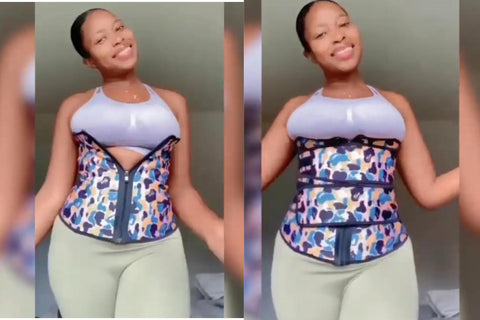 3. High-Elastic Workout Waist Cincher
Suppose you want to focus in slimming down your waist and achieving an hourglass figure. In that case, a high-elastic workout waist cincher works well because it has several belts that you can use to concentrate on different parts of your waist.
It can also help correct your posture, and it doesn`t roll down, which makes it an ideal product to use while working out or doing some yoga poses.
Before getting this product, you might be looking at pictures and descriptions on our website, but once you`ve tried this, you`ll be one of our many reviewers who have fallen in love with this product.
After getting this waist cincher and trying it out for herself, this is what one of our customers has to say:
"This waist trainer is heavy-duty. It got easier to wear as time went on. I'm unsure if my waist shrunk, but I can now fasten it standing up within a minute or two. The waist cincher didn`t* stretch out, and it remained intact and durable. Helpful hint: I am 250 lbs., and I ordered a size 5x. Order 2 or 3 sizes bigger than your actual size; you can always adjust the fasteners." – Whitney Fezel
 FEELINGIRL WORKOUT WAIST TRAINER BELT FOR WOMEN
For less than $65, you can get a waist trainer that`s unique and works well. Many of our customers have said that it lifts their chest, which is perfect if you need that kind of support so that your busts won`t hurt after working out due to lack of support.
One of the best things that our customers love about this as well is the design. It has an animal print on frosted leather, making it a high-quality product you can`t miss out on!
4. Plus-size Corset with Three Belts for Stomach Compression
Finding a plus-size corset with strong compression can fasten your waist training progress. FeelinGirls` corset with three belts can help you with reducing your waist size at the same time allow you to move freely while exercising unlike other brands that compresses the stomach but doesn`t allow the wearer to be flexible.
A lot of our customers have mentioned that it`s not itchy, it`s comfortable, and it`s true to its size. One of our customers even said that it definitely sucked her tummy in and made her feel 5 sizes smaller! What a testimony!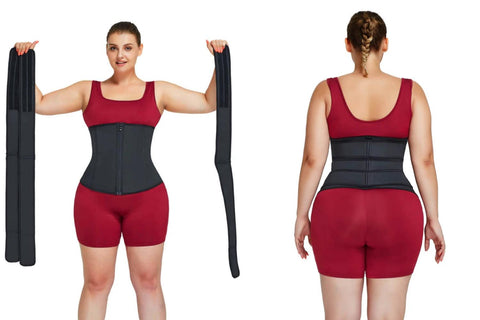 5. Full Shapewear for Butt-Lifting and Back Support
Experience a seamless body-shaping experience with FeelinGirls` full body shapewear that helps with back support and butt-lifting.
Before getting this shapewear, all you can see are model photos. After getting this shapewear, our customers say that it fits well, comfortable, stretchy, and arrives fast. Its compression is also amazing!
And one of the best reviews we have ever gotten is this:
"I'm 5' 10". 180 to 200 lbs. All muscle with a bit of a belly. I'm a guy and these things for men are extremely expensive. I finally found something made for a woman that works. The cut-out in the bottom part is perfect because it makes my belt and pants fit so really nicely*. It looks like I have a top* on under my everyday clothes*. Great fit and comfort. I was thoroughly shocked and surprised* with how comfortable the small shapewear was. The small is perfect." – Billy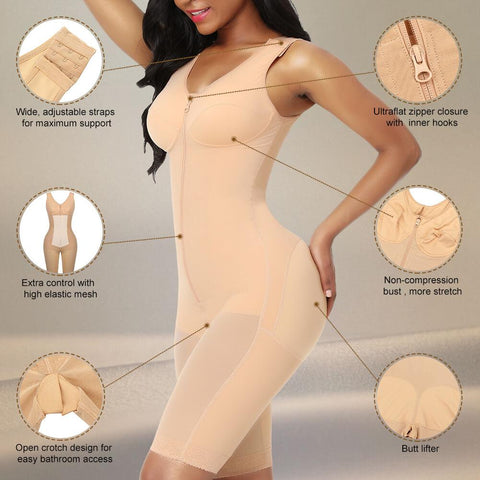 Our products work on anybody, whether you`re petite, plus-size, average, male or female, and whatever your age is. This is the best plus size shapewear you can find on our site as well! As long as you don`t have allergic to any of the materials we use, you can take advantage of our well-made products that will help you with your physique.
The materials, skeletal support, and purpose of each shape wear are all [critical as deciding factors whether you`ll get the product or not.
These body shapers have been tried and tested before we put them on the market. You can also see the effectiveness of these products through the customer reviews since no one can better tell you best than those who have physically used the shape to wear out.
Related post:
Ultimate Guide of Waist Training Results
According to FeelinGirl Reviews to Know Waist Trainer Results
Join in Workout Waist Trainer for Work at Home
How to Wear Latex Waist Trainer Correctly