Knows Shapewear For Women on FeelinGirl Reviews
What is shape wear? A body shaper is usually an undergarment that you can wear to shape your body in an ideal way. There are different types of body shapers such as waist trainers, bodysuits, shaper shorts, and underwear or panties.
Finding good shape wear for your body is easy when you're in the right store. Thankfully, Feelingirls has all you need to shape up your waist, tummy, hips, butt, and chest area. Check out the best body shaper for women with the best reviews from genuine customers:
1. FeelinGirls Full Body Shaper with Waist Trimmer
"it's more than I expected. I loved it so much because it has the compression I need, and the price is great." – Odalis C.
For less than $100, you can get a full-body shaper that has an open-crotch design, anti-roll bands and lace, three rows of closure, waits for cincher, butt-lifter, and chest support all in one!
"This fits well especially when I`m going out. The material is good quality, and it is also comfortable. It looks really cute, and you can also wear it under your clothes. I love it so much that I want another one." – Bianca Hankins
2. High-Waist Mesh Shapewear
Look sexy in any clothing that you want to wear through FeelinGirls` shapewear mesh that fits snuggly into your body for a seamless fit. You can wear this with dresses because it can serve as protection for your intimate parts.
Many women love this specific body shaper because of its durability, even if you use it a couple of times a week.
3. Neoprene Full-Body Waist Trainer, Thigh Slimmer, and Butt-Shaper
One of the most redeeming qualities of this neoprene full-body trainer is the thigh trimmer feature. Not all trainers and shape wear has this which is why it's one the products that our customers love. It's basically a complete package that supports the back, stomach and hips, lifts the butt, and slims down the thigh areas.
It has a high-waist design, connecting straps for a one-piece trainer, and easy closure. Most of our customers are surprised with how well this fits them. It's definitely an excellent investment for your body!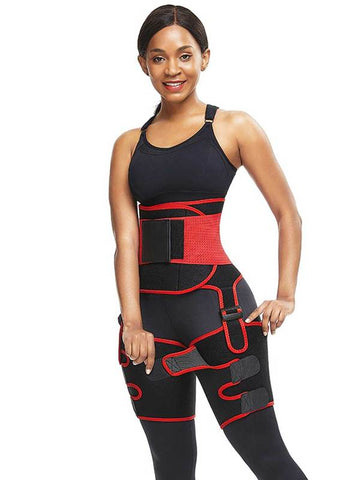 4. Plus-Size Waist Trainer for Women
You can see from the waist trainer before and after pictures how our lovely customer used to have visible belly rolls and a slightly undefined waist. However, you can clearly see that she has less belly rolls on the after photos and has a more defined waist size.
When she wore Feelingirls` plus-size waist trainer, she immediately has an hourglass figure that created a proportionate body and slimmer waist size.
It is one way you can immediately tell that a product works. You will be able to see better and more permanent results if you have consistent trainer usage.
5. Tummy Control Shapewear
According to a FeelinGirl review, "It was everything they said it'd be! It gives great support and is surprisingly comfortable! It also always stays in place; it never rolls down like other brands." – Destiny W.
It has two plastic bones to help the structure of the shape wear, and it has three layers of cloth to ensure that you're getting a tight but comfortable fit. The straps can help ensure that the body shaper doesn't fall off.
For less than $70, this is beautiful shape wear that has excellent reviews! It has almost every feature that you're probably looking for in body shaper, such as anti-rolling, tummy control, and excellent body support!
6. Be Sexy with Best-Selling Women's Shapewear with Butt Lifter and Tummy Control
If you want to put hip pads to accentuate your curvy body, FeelinGirl's body shaper with holes on the side is the perfect product for you! You can insert the hip pads to keep them in place when you're wearing a skirt or dress.
Some customers love it because it lasts for years, has an anti-roll feature, supports the back, and at the same time makes their booty rounder. It's excellent body support that can make you feel and look sexy too!
7.  Full-Body Stomach Shaper
FeelinGirls` body shaper with anti-rolling feature is one of the best products you can get for full-body support. It has 30% spandex and 70% nylon for a comfortable and breathable fit.
"The fabric and materials of this full-body shaper is skin-friendly, breathable, so soft and comfortable. It is extremely well-made and of high quality.
I would expect to pay more money, much more for a comparable product than I did. It fits perfectly on my 5'5", 145 lb. body frame. I have a curvy figure, and my legs are on the heavier side, so I was concerned that the legs might roll up, but they don't roll at all. It was very easy to put on.
The adjustable shoulder straps are wide and comfortable, and the open front allows me to wear my bra but gives my bust line a lift/boost without flattening it. It holds in my flabby tummy, but it's not so tight that I can't breathe.
The model I purchased has the open back bottom flap, making it very easy to pull on and use the bathroom. There is a wide gusset, so I can wear a panty liner and no panties but feel covered up. The bottom fabric overlaps the back fabric, which goes down to the bottom. I wish that back fabric were a little elongated so when I bend or sit, the pieces wouldn't leave a gap and separate.
To alleviate that, I wear pantyhose over it, but I would prefer to wear thigh-high stockings instead to prevent any extra waistline indentions. The back of the body shaper completely smoothen out my bra line, and there are no bulges. This was an excellent purchase and worth every buck!" – One of our users, "Grandma Kathy," gave this product a whopping  perfect FeelinGirls five-star review!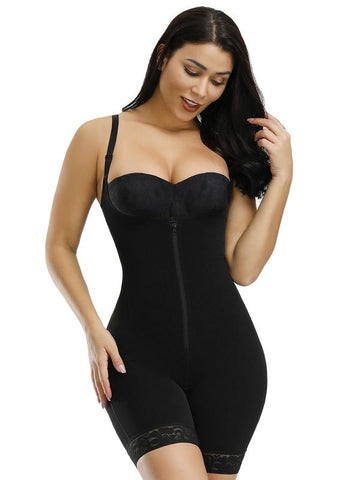 FEELINGIRL FULL BODY WAIST TRAINER FOR WOMEN STOMACH SHAPER
8. High-Waist Slimming Pants for your Workouts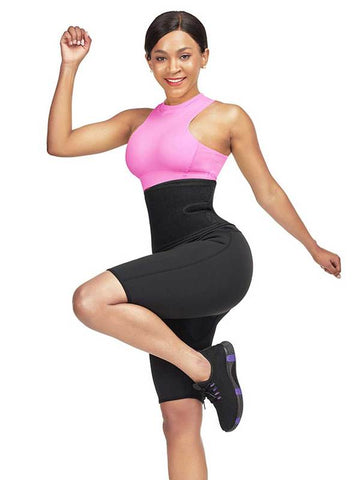 When working out, we need to ensure that you're wearing the proper attire, or your pants might rip, or worse if you get injured due to constricting fabric. A neoprene slimming and workout pants are your perfect clothing for intense exercises so you can feel comfortable and do all the stretches you need to achieve the body you want.
These shape wear and waist trainers will help you with your exercise routines by supporting your upper and lower body. Wearing body shapers regularly can also have long-term effects on your body, such as improved posture, smaller waist, and proportionate body.
Getting your shape wear from FeelinGirls will assure you that you're getting the best product for your body at low and discounted prices. Checking out the reviews of real customers will let you know their first-hand experience so you can better choose which FeelinGirls body shaper matches your needs.
9. FeelinGirl Eco-friendly Seamless Outer Crew Thong Bodysuit
This bodysuit is made of eco-friendly fabric, with seamless material to make it comfortable and smooth to skin; the halter neck design make it more stylish. 
Related post:
Shapewear is An Ideal Choice For Women
Best Selling Full Body Shaper for Plus-Size Women
Buy Shapewear that Fits Your Body Perfectly