Ultimate Guide to Wear Full Body Shaper for Curvy Girls
When you are wearing great clothes, even sexy undergarments, you feel confident and ready to take over the world. Now everyone loves curves. I do, ask someone who has to hear flat chested all the time. I would love to have some curves. To all the curvy ladies, you are lucky!!!Now when you need to wear that extra tight dress, with extra thin, sheer material, there is nothing wrong in utilizing some help from some incredible shapewear. In fact, it will make you feel very powerful. But finding the correct shapewear for a curvy body, is in itself a challenge, and you know it so well.
So, let us look at some of the points that you should consider when looking for a curvy body shapewear.
1.First thing is very fundamental and basic; you should know your measurements
So, you need to take the measurements of your bust, hips and waist very carefully. If not comfortable, ask your friend or a partner to do so. As you can stand up straight and there is no error in the measurement. Now whenever you are looking shapewear for your body keep them handy. And remember, ready their product description and sizing guide very carefully. Because if by mistake if the size it small, instead of doing wonders for your body, it will immediately backfire.
A slimming bodysuit is a perfect example of plus size body shapewear. They make your body feel great and feel stylish in any outfit.
2.You should love your body and know what to magnify
Now there are a lot of plus size body shapes like an apple, a pear, rectangle. You will find a lot of different names. But you know what your body wants. So, you should decide which asset of your body do you need to enhance. Where there is a bit extra and you need to provide some support. If your hips are curvy, don't choose a shapewear that will flatten it. But instead choose something that will make your shape more enticing. The best curvy bodies shapewear are always designed keeping you in mind, so never ever compromise.
We have shaper shorts for plus sized body types, now what are these?
Shaper shorts are lovely shapewear that you can wear below your waist line to remove cloth lines, and give a better shape to your waists, thighs and hips. They have become quite popular nowadays.
3.Finally decide how much support do you actually need
Ultimately the decision is yours that how much support do you need and for what occasion, whether it is for office, or for weddings or any other special occasions. Now whenever you go to buy plus sized shapewear remember these points.
FEELINGIRL FULL BODY SHAPER FOR WOMEN TUMMY CONTROL UNDERWEAR
A great many times it has happened that we are not so fully confident of our figures and hesitate in shopping fully, even online for what we need. I had the same issue, but when I read 
waist trainer before and after
 reviews of the customers. I was amazed with the way the women were confident in their own skin. They are proud of their bodies and not least afraid to show off. So, you too do the same and have confidence in your body and take whatever you want without feeling a least bit shy.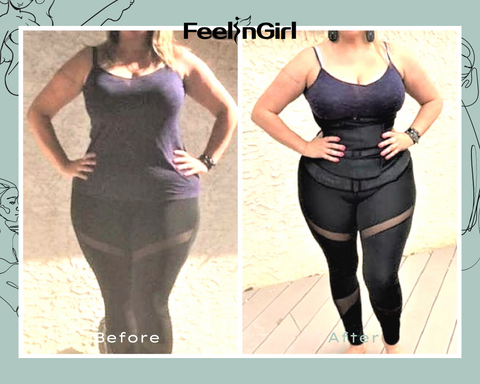 FEELINGIRL PLUS SIZE SHAPEWEAR BODYSUITS FOR WOMEN UNDERWEAR
Related post:
Are butt lifter shapewear really useful?
How does Shapewears Control the Body
Up to 60% Off on FeelinGirl Holiday Sale
Looking For the Best Shapewear for Tummy Control