What Happens if you Wear Shapewear Before and After
Wearing shapewear is becoming a norm for a lot of women. For someone who had not worn one before or never needed one, the necessity of wearing body shapers can be questionable. You might even get confused about which one to get or the differences between the body shapers and waist trainers you can buy online.
Celebrities like Kim Kardashian, Jessica Alba, Blacc Chyna, Kourtney Kardashian, and Kylie Jenner are known for having extraordinarily sexy bodies that many women desire. No wonder there have been so many shapewear brands opening their store lately. Be careful, though! Not all brands can deliver the results that you're expecting, so always check the product reviews! What happens before and after wearing shapewear and waist trainers, though? Check out these body shapers and waist trainer before and after experiences you might have if you try it out for yourself:
1. Tight-fitting Shapewear will Hide your Fat Rolls 
SHOP AT: FEELINGIRL BEST SHAPEWEAR FOR TUMMY AND WAIST UNDERWEAR
Slimming bodysuit will tighten your skin as much as possible, especially in the waist area, to form a slimmer figure. As long as your shapewear is in the right size, you shouldn't feel uncomfortable or irritated with the body shaper that will seem like it's attached to you.
Most of our shapewear has different structures in different parts. For example, it usually has a soft wire in the underbust area that will support your breasts. In the bust area, we typically use a fabric with mesh so you can feel comfortable wearing either a nipple sticky pad or your bra.  There are traditionally steel bones in the waist area to strengthen the waist trainer in cinching your waist.
2. It will Cinch your Waist 
Shapewear and waist trainers are popular because of the very reason that they can slim down your waist. With the popularity of the hourglass figure, many women desire to have a Marilyn Monroe body that will make them look empowered, bold, and confident.
If you look at the picture, you can easily tell that she has a stunning, voluptuous body! Her visibly extraordinary thin waist complements her thick figure so well, creating a gorgeous hourglass figure. It's mainly because of the works of the waist trainer and shapewear that she wears. Of course, your healthy lifestyle matters, but getting some help from Feelingirls` shapewear to speed up the process of achieving a sexy waist doesn't sound bad at all!
3. Waist Trainers and Shapewear will Provide Support for your Body
SHOP AT: FEELINGIRLS.COM – PLUS-SIZE SHAPEWEAR BODYSUITS FOR WOMEN UNDERWEAR
If you ever need that extra support to be upright when sitting or walking, shapewear can help you with that. Though your shapewear's support can provide your body isn't as high as those that doctors give for medical reasons, you can wear shapewear to make minimal changes to your form. Wearing a shapewear or waist trainer can help your back, chest, butt, hips, and even thighs.
As you can see in the picture, she has a round stomach that might need a little cinching and flattening that is achieved in the second photo. If she wears a skin-tight dress, her protruding belly won't be so visible with the help of our body shaper. One of the best benefits you can expect if you wear one is that you'll have a smooth hourglass body line. 
4. You Will Have a Sexier Silhouette
One of the most exciting and sought-after results that get women hooked on shapewear is the sexier silhouette it can give the body. Even if you're petite, average, or plus-size, you can look sexier with the tightening that our full body shaper can provide.
In the picture, she's wearing our tummy and waist underwear with lace shorts. If you check out the back, it has butt pads that are useful if you're still in the process of exercising your way to a bigger and fuller bottom.
When you wear this shapewear under your clothing, you'll have a sexier silhouette because it compresses your side fats, at the same time, give you a fuller-looking butt just like her!
5. Enjoy Instant Slimming Effect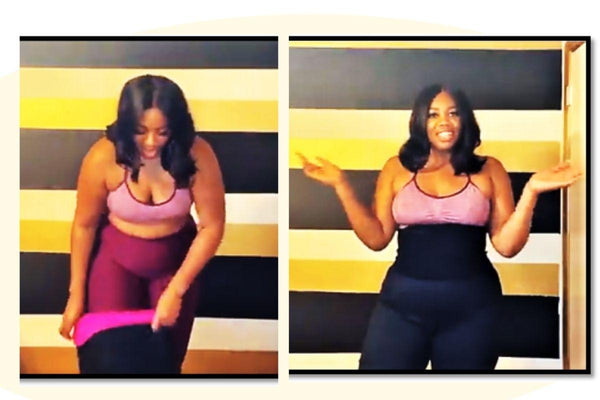 SHOP AT: FEELINGIRLS.COM - WOMEN HIGH WAIST TUMMY CONTROL NEOPRENE SLIMMING PANTS
You can see in the left photo that she has some love handles, belly rolls, and protruding stomach. She has an hourglass-like body shape on the right image, and her front belly isn't as protruding as before. You can also tell that her waist and tummy areas are well-cinched.
Our high-waist neoprene slimming pants are one of our best-selling shapewear because you can use them as your regular yoga or fitness pants. You can wear it around the house or outside too!
The instant slimming effects of most shapewear are what will hype you up to continue using it for the more long-term effects it can give your body. Of course, the results will differ based on the type of shapewear you're wearing. If you're wearing a body shaper with belts, you'll instantly notice a tinier waist. On the other hand, if you're wearing a full body shaper, you'll immediately see a slimmer thigh, abdomen, and lifted busts. The size of the shapewear you're wearing matters for you to see instant results, so always make sure you get the proper fit!
Shapewear both have temporary and permanent effects. When you first get your body shaper and wear it, you'll get excited with the instant slim down your body will have. If you wear it consistently and routinely, you can enjoy the long-term effects of a curvier body.
There are many benefits you can get from wearing body shapers. Checking out the best plus size shapewear and waist trainer before and after pictures of our customers can say more than words can. Your body is the symbol and presentation of your thoughts, ideas, and personality. Presenting your body in the way you want to will benefit you to become more assured of yourself and feel better that you're taking the time to care for your body.
Your body is an investment, and the body tools you use to improve it are significant; hence always choose Feelingirls for your body shaping equipment!
Related post:
Top 5 Women's Shapewear in Sales for Plus Size
Top 5 Best Shapewear for Bridal & Wedding of 2021
Show Off Their Waistlines with Women Shapewear Bodysuits
5 Best High-Waisted Shaper Shorts to Suit All Body Types