Will Shapewear Make You Slender?
 Shapewear is a body-shaping underwear or a tool that can compress key body parts for a slimmer figure. Most women wear slimming bodysuit for important events to present themselves in the best light. Nowadays, both men and women wear shapewear regularly to alter the look of their body, especially when they want to look sexier and curvier.
The industry is full of quirks, and getting honest feedback is essential. Does shapewear make you slender, or is it only an illusion? See for yourself with the pictures below of women wearing shapewear:
1. Small Waist and Plumper Bottoms Through Highly Elastic Shapewear
Shapewear usually has some or a combination these highly elastic fabrics:
Spandex
Nylon
Neoprene
Lycra
Rayon.
These materials form durable but stretchable clothing that can compress the waist for a slimmer size. If you look at the picture, you can tell that she has a smooth body figure and a rounder butt because of the shapewear. Now, if she wasn`t wearing shapewear, she might possibly have a little bit of love handles and extra fat. Since she`s wearing our shapewear, you don`t even see it; perfect for wearing sexy dresses!
2. Make your Shapewear Seem Like your Second Skin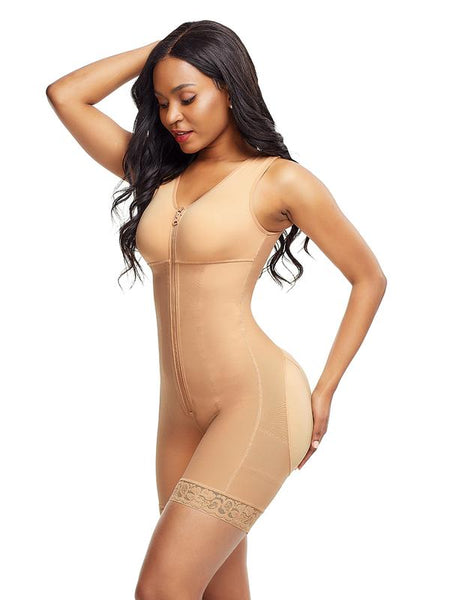 FEELINGIRL SHAPEWEAR BODYSUITS FOR WOMEN TUMMY AND WAIST SHAPER
In the picture, she has on skin-toned high-waist shaper shorts that can be closed through hook-and-eyes. The shapewear looks like her second skin without the closure; fantastic for wearing sheer or see-through dresses.
The stretchy fabric helps her to look fabulous, emphasizing her big and sexy hips. It's also moisture-wicking, so you won`t have to worry about embarrassing sweats picking through your clothes.
It is ideal for wearing if you want something that feels and looks like your second skin and compresses your upper torso for a sexier you.
3. Look like a Sexy Bombshell | Shapewear will Also Make you Look Curvier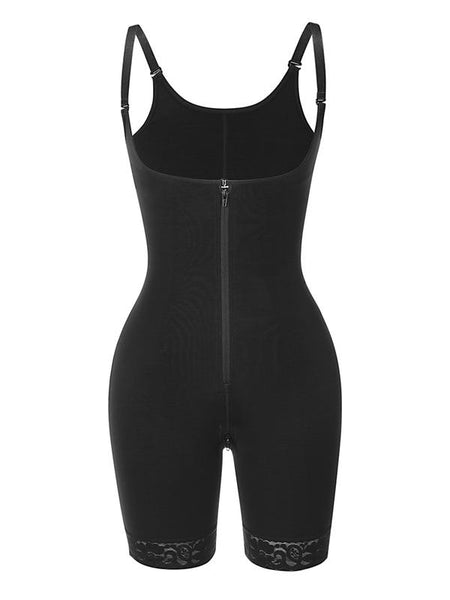 Of course, if shapewear can make you slender, it can also help accentuate your curves, making your butt and breasts stand out more. Like our stomach body shaper, most shapewear is focused on cinching the waist through the closures or bands that compresses the fats around the stomach. Since there's controlled compression in the waist area, and less pressure in other areas, you`ll have an hourglass figure where the waist is visibly thinner than the size of the hips and busts.
4. Cinch and Flatten the Waist with Proper Shapewear  
Losing weight and achieving your desired body takes a lot of time and effort. There may be times you might feel disheartened because of the slow progress. Many women often pause or stop taking steps in getting the body they want because they get discouraged easily with the lack of evident results from their efforts immediately.
This is where shapewear becomes useful as well, and our mission comes to fruition. Not only does it instantly make you slender than without shapewear, but it can also motivate you to work out harder so that you can look your best all the time, with or without wearing a body shaper.
As you can see in the picture, she has a bit of a flabby belly which is not visible at all when she was already wearing our shapewear shorts. It`s because the body shaper has moderate tummy control that covers the entire stomach, at the same time it has tight closures to ensure it won`t pop open. 
5. A Full Body Shaper can Help you Become Slender in Your Waist and Thigh Areas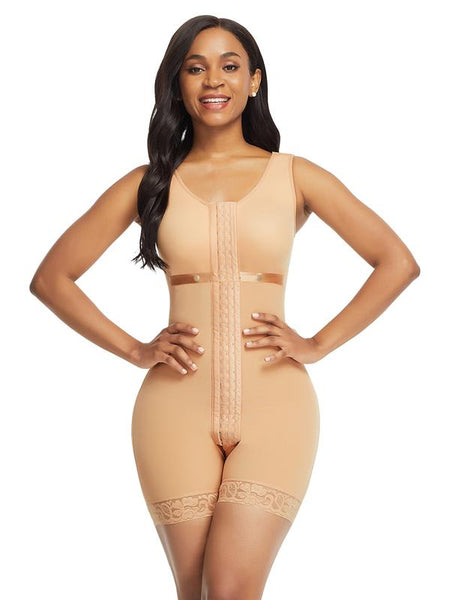 FEELINGIRL POST SURGICAL COMPRESSION SHAPEWEAR FULL BODY SHAPER UNDERGARMENTS
Not only does shapewear make you slender, but it also supports your body through a full body shaper. Our compression shapewear has adjustable straps for maximum support, tight closures, and durable materials for the optimum instant slimming experience.
It comes with a spandex bra and central hooks to ensure that you get a slimmer waist size and supported breasts for well-balanced body proportions. As exciting wearing a full-body shaper may be because of the many benefits, a fair warning not to get shapewear smaller than your actual size because it will only make you feel irritated and but it can even possibly hurt you when moving.
Our best plus size shapewear is one of our bestsellers because of its structure. As you can see, it has four rows of hook-and-eye closure that goes down to the belly button. It also has a built-in bra. A body shaper like this can help prevent bra fats and bulges if you`re going to wear this under your gown or dress.
There have been many studies and debates about whether shapewear can make you lose weight or make you slender. They have found out that they aid in weight loss, especially with water weight, and the heat is trapped in between your skin and the fabric.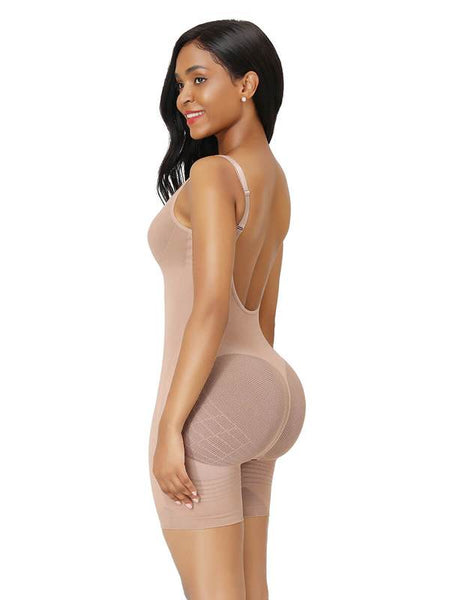 FEELINGIRL LYCRA BACKLESS SHAPEWEAR BUTT LIFTER SLIMMING BODYSUIT
Before wearing any body-shaping garment, you may also consult your doctor or gym instructor to get their opinions on which ones will benefit you the most. Many body shapers are helpful for the arms, muffin tops, hips, waist, bust, and bottoms. Getting an expert`s opinion is a perk that you should also do so you can maximize the advantages of wearing shapewear.
With these pictures, it's safe to say that shapewear can make you slender. Always remember to choose a compression body shaper in the right size and from Feelingirl. These testimonies alone prove that shapewear can instantly make you slender.
Don't feel insecure because of your bellies and fat rolls when you can wear our Feelingirl shapewear that will make wearing trendy clothes a breeze.