Waist Trainer Before & After
5 Reasons These FeelinGirl Before and After Pictures Will Convince You To Choose FeelinGirl
Trying out a new waist trainer brand that's unknown to you can make you doubt as to whether they're practical and worth the bucks. Not all shapewear brands can be trusted, and that's okay! It means you're wise as a consumer in choosing the right product that will benefit you.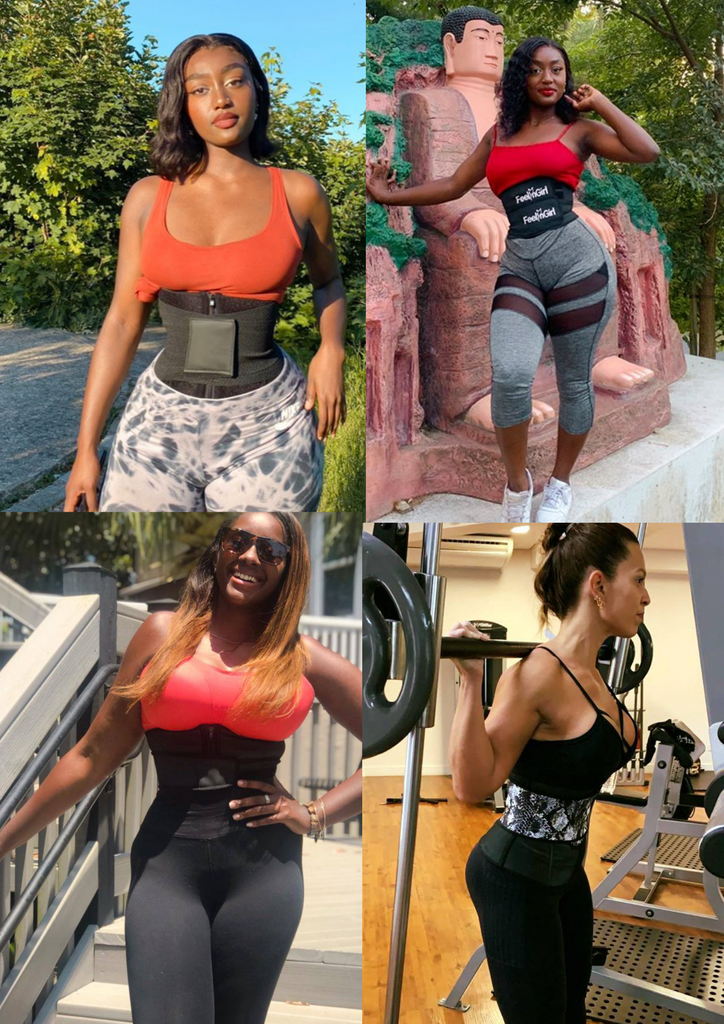 If you haven't heard about FeelinGirl before, it's an online shop for various of shapewear, waist trainer for women, thigh arm trimmer and so on. Our manufacturing company plans, designs, and creates activewear with modern technology to help empower women to wear all the clothing they want. You'll know we're the right brand for you through FeelinGirl's waist trainer before and after pictures!
Table of Contents:
5 Reasons These Before and After Pictures Will
Convince You To Choose FeelinGirl
1. Influencer-Approved Waist Trainers
• Shantoyia Nicole | What an Instagram Influencer Has to Say about Our Waist Trainer
2. Your Waist Trainer Results Matter To Us
3. You Can Achieve a Cinched Waist with Our Best-Selling Latex Waist Trainer
4. Get a Variety of Tummy Control Shapewear for your Body
• Full Body Shaper
• Slimming Bodysuit
• Plus-Size Shapewear
5. Top-Grade Waist Trainers for Long-Term Results
Buying from known shapewear brands has advantages because many loyal consumers have tried their products already. However, you have to understand that these known brands have many marketing budgets and have much backing from A-List celebrities and influencers.
It means that you are probably paying a lot of money, mainly for their name. Do you want to pay for an overhyped product and probably costs less somewhere else?
What if you can get the same body shaper with way less money? Nowadays, buying from known brands may feel reassuring, but buying from a waist trainer company with years of experience in the business which offers high-quality, affordable and effective products are not only practical but highly essential! So, why should you choose FeelinGirl?
1. Influencer-Approved Waist Trainers
Shop on: FEELINGIRL WORKOUT WAIST TRAINER BELT FOR WOMEN
Please don't break your bank trying to get the best shapewear when you can get it at excellent prices at FeelinGirl! The before and after pictures of real customers will turn your head away from huge waist trainer brands to FeelinGirl! Suppose you're unsure which one to buy. In that case, you can always check FeelinGirl reviews or visit our Instagram page to read real customers' testimonies and experiences on different waist cinchers and bodysuits.
Shantoyia Nicole |

 

What an Instagram Influencer Has to Say about Our Waist Trainer: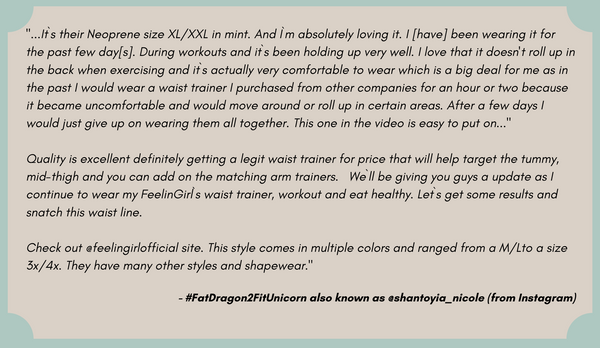 You can watch her full video and review of using our Neoprene Waist Trainer here:
Needless to say, product reviews can show you more what FeelinGirl products are capable of! Buckle up, and enjoy riding (or reading in this case) through the experiences of different influencers and customers.
GET THIS PRODUCT HERE
⇨ 
FEELINGIRL NEOPRENE WAIST TRIMMER WITH HIGH WAIST MID THIGH SHAPEWEAR FOR TUMMY AND WAIST
2. Your Waist Trainer Results Matter To Us
A waist trainer aims to achieve a curvier and slimmer figure for an extraordinary hourglass shape. If, after wearing it, you don't see an immediate change, then you just got scammed.
You won't have to worry about that with FeelinGirl, though. If you wish, you can also opt not to wear the belts that come with the shapewear you buy. You can wear it in or outside your yoga suits, just like our lovely plus-size customer, and still be able to enjoy a beautiful body shape.
As you can see, she has some fat rolls, but when she wore our plus-size best waist trainer for women, she immediately has an hourglass shape with the stomach rolls and love handles hidden. The waist trainer has instant stomach compression because of the durable and multi-layer fabric that can cinch and reduce your waist size.
No matter how small or big you are, and what the event is, you can benefit from a variety of shapewear that can cinch your waist area.
As you can see in the photos of before and after, she has side belly rolls and side bulges, but when she put on the body shaper, you can immediately see how she's zipping up the shapewear also smoothens her side fats.
As you can also see from the side, you can observe that there aren't many fat rolls compared to if she wasn't wearing a full body shaper. The excellent factor about this shapewear is that she can wear her bra underneath, which is more comfortable throughout the day.
The hooks are also convenient because she can close the bodysuit first to ensure that it won't unzip.
GET THIS PRODUCT HERE ⇨ FEELINGIRL BEST SHAPEWEAR FOR TUMMY AND WAIST UNDERWEAR
Check What One of Our Lovely Customers Have to Say about Our Shapewear for Tummy Control. Does it Work?

GET THIS PRODUCT HERE
⇨
FEELINGIRL FIRM COMPRESSION SHAPEWEAR BODYSUIT FOR BODYCON DRESS
You can notice that her midsection is less plump compared to the before picture. Her red dress complements her gorgeous skin and her body by ensuring that the body shaper compresses her tummy area through its stomach control capability.
If you look closely at her body's silhouette on the top photo, she has a more visible "tummy bump" on the before pictures than the after picture. On the bottom photo, you can also notice that she has less visible side belly fat. With this, it's safe to say that the full-body shaper with slimming bodysuits effectively helps her have a better body posture, cinching her waist and reducing the appearance of fat and belly rolls. She also has a curvier figure closer to an hourglass shape, even if her dress is a bit loose.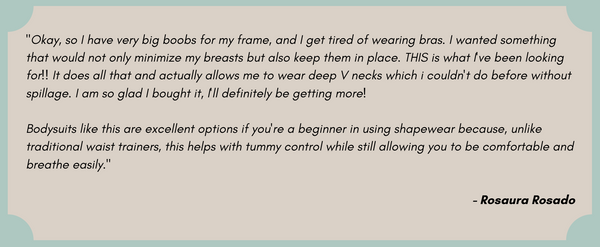 GET THIS PRODUCT HERE
⇨
FEELINGIRL FULL BODY SHAPER FOR WOMEN TUMMY CONTROL UNDERWEAR
In this photo, she's wearing Feelingirl's plus-size slimming bodysuit for women. She has visible belly rolls, but you can notice that she has a smoother silhouette with fewer fat rolls when she wears the shapewear. It's because the body shaper has multi-layer fabric that compresses your waist and tummy area.
Before zipping up the shapewear, there are also bands for closure to keep the body shaper together and prevent automatic unzipping when breathing or doing rigorous activities like working out.
The improved inner layer of the fabric is there to help you become more comfortable. Though you can wear the bodysuit as is, you can still wear a bra underneath, especially if you're gifted in that area. You won't have difficulty putting it on and off because of its skin-friendly materials, and you can go to the comfort room anytime because of its crotchless design!
Check Out What Our Customer Has to Say:

GET THIS PRODUCT HERE
⇨
 

FEELINGIRL PLUS SIZE BODY SHAPER FOR WOMEN SLIMMING BODYSUIT
—— Plus Size Shapewear ——
Our beautiful plus-size customer wears a bodysuit that highlights her curvaceous bottoms and busts by ensuring that the body shaper smoothens her midsection's rolls and muffin tops.
Bodysuits like this are excellent for tight-fitting dresses like her bright white and red bodycon maxi dress.
Check Out What Our Customer Has to Say:

Who knew you could get high-quality shapewear that's better than other brands for less than $80? Save your time and money by shopping at FeelinGirls so you won't have to exert the extra effort of losing money and trying to find the perfect brand!
GET THIS PRODUCT HERE
⇨
 

FEELINGIRL PLUS SIZE SHAPEWEAR BODYSUITS FOR WOMEN UNDERWEAR
5. Top-Grade Waist Trainers for Long-Term Results
Waist trainers and body shapers don't magically make you slimmer though it may seem like it. Because this shapewear isn't like your regular clothing due to the high-quality fabric, it has to ensure that it can compress your waist area without making breathing difficult for you.
You can find a good waist trainer at FeelinGirl with breathable and skin-friendly fabric that'll help you look glamorously sexy in no time! If you want both short-term and long-term effects, you've got nothing to worry about because you can have both by getting the proper trainer for you, along with exercise and a good diet.
Check Out What Our Customer Has to Say:

GET THIS PRODUCT HERE
⇨
FEELINGIRL NEOPRENE WAIST TRAINER WITH ZIPPER AND STRAPS PLUS SIZE SHAPEWEAR
To ensure that you'll get what you're expecting, always read the product description and sizing guide below each product! They will help ensure you get the right fit like Ms. Aubrianna G. Having the right expectations when it comes to the shapewear you're buying will help you prevent unnecessary waste of time of exchanging what you purchased.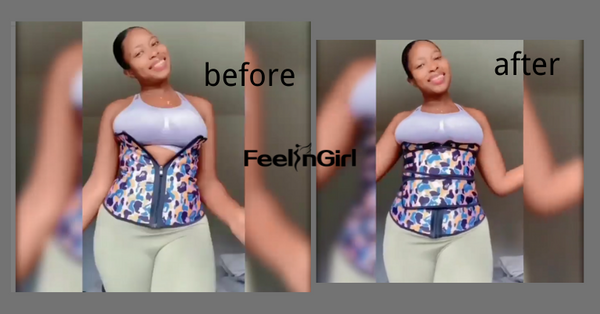 The camouflage corset will help support your back and help you burn more calories since it is made of latex. It is one of the few waist cinchers that you can find with a unique and colorful design.

GET THIS PRODUCT HERE
⇨
FEELINGIRL ZIPPER CAMOUFLAGE WAIST TRAINER STEEL BONED FITNESS WAIST TRIMMER BELT
FeelinGirl has various waist cinchers available such as vests, wrap-around, and those with belts, thigh trimmers, butt lifters, or arm trimmers. Selecting one or more trainers that fit your Body's needs will help you in your fitness journey in the long run.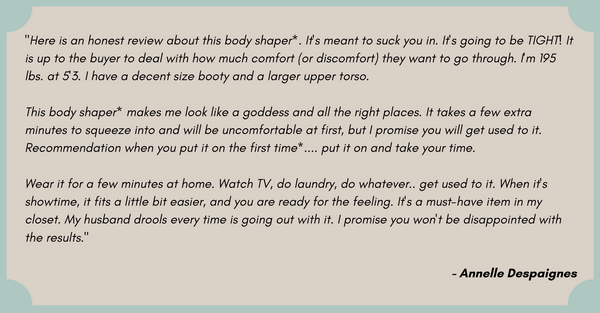 Have you been convinced yet? Accurate results matter in choosing the best body tool for you, so there shouldn't be anything that hinders you from getting a few shapewear and waist trainers that you can rotate around in using in a week.
Our FeelinGirl waist trainer before and after photos is an excellent testimony regarding the incredible results our beloved customers are getting. We can't wait to see you feeling better and comfortable to wear any clothes you want!
Back to top