Product Description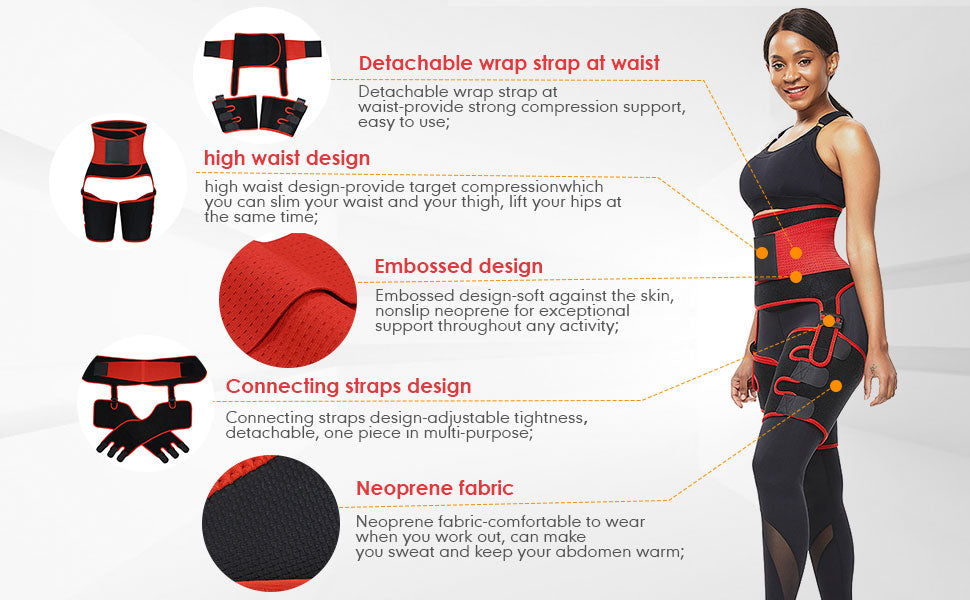 1. Neoprene fabric, comfortable to wear when you work out, keep your abdomen warm;
2. Embossed design, soft against the skin, nonslip neoprene for exceptional support throughout any activity;
3. The high waist design is to provide target compression which you can slim your waist and your thigh, lift your hips at the same time;
4. Detachable wrap strap at waist, provide strong compression support, easy to use;
5. Connecting straps design:
1) adjustable tightness 2) detachable, one piece in multi-purpose.
Find your size below with our one-of-a-kind & accurate size chart 
Product name: Neoprene High Waist Adjustable Thigh Trimmer

Description:
1.Fabric name: Double-layer composite neoprene
2. Main fabric composition: neoprene
3. Content of main fabric composition: 80 (%)
4. Functions: burn fat, waist trainer, thigh trimmer
5. Pressure rating: shape
6. Thickness: thick
7. Steel bones: 0 steel bones
8. Color: red, black
9. Size: M/L, XL/XXL,3XL/4XL
Product list: thigh trimmer*1
Wash care: 1. Gentle hand wash, maximum water temperature 40 ℃ (short washing time); 2. Do not wring; 3. Non machine washable; 4. Do not dry clean; 5. Do not expose; 6. Hanging to dry naturally; 7. No ironing.
We Think That You Might Also Like